1050A Aluminium plate Alloy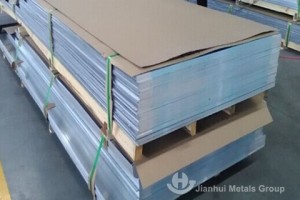 An unalloyed ('pure') non-heat treatable rolled aluminium sheet engineered for general sheet metal work where high mechanical properties are not required.
Internationally recognised grade EN AW  1050A  Aluminium  plate  Alloy H14 – 99.50% pure aluminium (Al 99.5) sheet strain hardened to the half-hard temper. The previous BS specification was known as S1B and the half-hard temper was known as H4, giving S1B H4. Smiths range of 1050A will meet all appropriate national/international standards.
The annealing of 1050A  Aluminium  plate  Alloy sheet includes three kinds: totally annealing, fast annealing as well as quenching and aging. For its characteristics above, 1050 aluminum sheet has a vast application, such as daily goods, lighting applicant, reflective board, decoration, vessels for chemical industry, heat sinks, signs, electronics, lamps, deep draw structures and so on and so forth. All these are demanding excellent resistance to correction and formability, but low strength. So we can get to know the chemical equipments are typical applications of 1050A  Aluminium  plate  Alloy. Jianhui Aluminum has been engaged in aluminum deep processing for decades, so mature technology, strict quality control can be realized here. Besides, advanced equipment and mature delivery system guarantee short leading time. Thus, the efficiency can be improved.