Complete In formation about Color Mirror Aluminum Sheets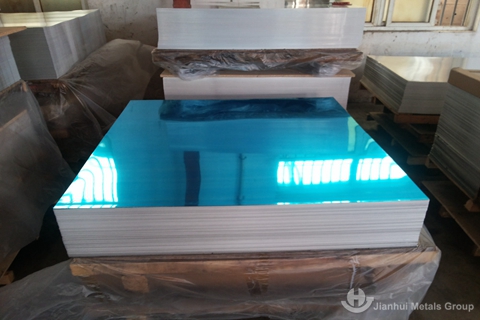 The color mirror aluminum sheets are aluminum sheets taking on a mirror effect by rolling, grinding and a variety of methods. Usually abroad the mirror aluminum plates are rolled to produce roll materials or sheets; while currently in China, Jianhui Aluminum is the exclusive supplier of the mirror aluminum sheets produced by using the rolling technology.
The mirror aluminum sheet is just a general term, and in accordance with the surface polish level, it can be classified into three types, i.e. 800 standard polish, 850 high polish and 890 super-high polish; while according to the post surface processing methods, it can be divided into aluminum sheet 800 series with oxidized polish and aluminum sheet R series with unoxidized polish.
Color Mirror aluminum sheets advantages are shown below:
 High abrasion and corrosion resistance.
 The continuous-manufacturing enables the supply of 6,000 mm length and 1,250 width pieces.
 High shock-resistance that implies fewer replacements for breakage.
 No breakages associated with the thermal shock.
 Easy Installation, manipulation and transport.
 Lightweight.
Colors of the Bright aluminum sheets
The mirror aluminum sheet can be divided into two color series: basic colors and metallic colors. For basic colors, there are 790.36 Chinese red, 790.32 orange, 790.20 gold, 790.50 green, 790.62 cyan, 790.40 blue, 790.42 ice blue, 790.60 purple, 790.18 smoky and 790.17 black;
For metallic colors, there are 790.23 titanium gold, 790.26 champagne, 790.35 copper, 790.30 rose gold, 790.70 light bronze, 790.73 dark bronze and 790.16 stainless steel color.
Applicable scope of the Bright aluminum sheet
The color mirror aluminum sheets is widely used in such fields as lighting reflectors, lamp decorations, solar heat collecting and reflecting material, indoor decorations, external wall decorations, domestic appliance panels, electronic product housing, furniture, kitchen, internal and external decorations of automobiles, sign boards, identifications, cases and bags, jewelry cases, etc.
Jianhui Metals Group is a rich experienced aluminum sheet suppliers that our quality products are mostly exported to
Europe, Australia, America,etc.Besides,we have win a great reputation by outstanding products with effective