OPA/ALU/PVC alu-alu bottom foil Medi alualu protective foil for medical packaging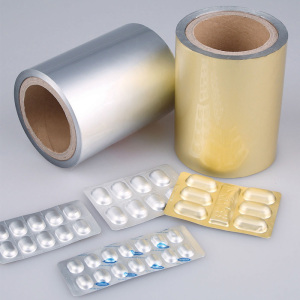 The Alu-Alu foil can be shaped in various appearances by changing the mould. The most common structure used in these foil laminates are 25µ OPA/Adhesive/45µ Aluminum Foil Our aluminum foil business has been supplying diverse aluminum foil products such as various medicine and food packaging materials and electric and electronic industrial materials with the best technology and high-tech facilities that have been accumulated over the last 40 years. We developed the nation's first4.3㎛aluminium foil with our own technology. In addition, we are equipped with high-tech facilities, such as wide rolling mills with automatic flatness control (AFC) and automatic Pin Hole detector, to produce high-quality products./Adhesive/60µ PVC.
Alu Alu Foil
 offered by us, is specially manufactured from quality raw material, sourced from reliable vendors of the market, ensuring high quality end product. Our Alu Alu Foil finds great applications in packaging of pharmaceutical, food and confectionery products. This Alu Alu Foil is widely appreciated for its durability, resistance to vapor & gas and for providing safe packaging. Avail the customized range of Alu Alu Foil from us at the most reasonable rates.
Cold formed
Alu Alu Foil
is at the heart of alu alu OPA/Al/PVC sandwich foils used for pharmaceutical blister pack applications because of their inherently superior advantages. Aluminum, even in micron thickness, is the best vapor and light barrier besides providing aesthetic shine for pharmaceutical blister packs.