Pharmaceutical Aluminium Blister Foil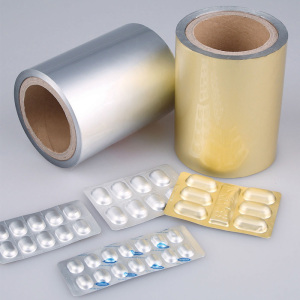 Many of Pharmaceutical Aluminium Blister Foil properties combine to provide user-friendly, safe and sound andversatile packaging formats for pharmaceutical tablets, creams, liquids and powders. Pharmaceutical aluminum foil fantastic barrier properties entirely exclude moisture, oxygen and other gases, micro-organismsand light, maintaining degradable solutions in peak condition above long intervals.
Pharmaceutical Aluminium Blister Foil comes in the fully sterile problem because of the annealing temperature and final conditioning processes. It can be not hazardous to overall health,and lots of suppliers give devoted 'clean-room' printing and laminating orprinting and packing facilities to be sure healthcare requirements of sterility.
Pharmaceutical Aluminium Blister Foil for blister packs are utilized largely within the pharmaceutical marketplace to package deal tablets and capsules within a manner they stay protected from ambient contamination. They are hard aluminum foils exactly where 1 side is coated with heat seal lacquer as well as the other side is unprinted or printed to facilitate pharmaceutical blister packaging. Most typical foil thicknesses utilized in pharmaceutical blister packaging are these of 20μ/25μ/30μ. The heat seal lacquer is usually a colorless vinyl resin conforming to your applicable worldwide rules for pharmaceutical applications. The HSL is ideal for heat sealing to PVC/PVDC coated PVC films. The choice of HSL can fluctuate from 4gsm -8gsm depending on the speed, solution and packaging.
When you are in search of
, do not hesitate to get hold of us please! E-mail: demi@jianhuimetals.com