Thick 0.9mm-8.0mm 5 five bars stucco checkered plate 50055052 aluminum embossed sheet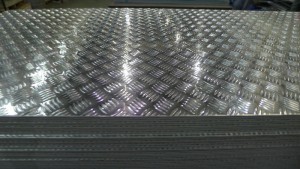 5 five bars stucco checkered plate 5005  is a non-heat-treatable 0.8% magnesium alloy commonly available in flat rolled coil, sheet and plate from a wide range of producing mills. The 5000-series magnesium alloys have a high strengths because of the magnesium addition;
Heat Treatment 5 five bars stucco checkered plate 5005 is not hardenable by heat treatment. It can be significantly hardened by cold work (eg by cold rolling) and various "H" tempers are produced – most commonly H32 (¼ Hard) and H34 (½ Hard) – as well as the soft annealed Temper O condition.
5 five bars stucco checkered plate 5005 spontaneously age-softens at room temperature immediately after cold work but will eventually reach a stable condition; all flat rolled mill products are supplied with stable properties. This is usually achieved by a stabilisation thermal treatment, either a low temperature thermal treatment or as a result of heat introduced during rolling, which results in the H3x tempers.
Aluminum 5005 is a lean aluminum magnesium alloy with low density and excellent thermal conductivity. This medium strength non-heat-treatable alloy is known for its corrosion resistance in alkaline marine situations.
Tell us freely to get more details about 5 five bars stucco checkered plate 5005 Email: joy@gloryalum.com